Wait a minute I though having a gun and a badge means you can have sex with any woman you want? No that's that's what cops think. But it's not true!
---
Ex-Tempe officer could lose certification in sex case
Allegedly pursued encounters on duty
by Laurie Merrill - Oct. 13, 2010 02:19 PM
The Arizona Republic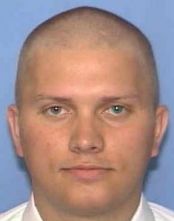 A former Tempe officer who resigned over allegations that he had pursued romantic encounters with at least four women while on duty could lose his police certification next Wednesday.
Jared Blanchard, 26, faces final action before the Arizona Peace Officer Standards and Training Board, which means his certification could be revoked. This would prevent him from working as a police officer in Arizona.
Blanchard, a sworn officer since March 2007, resigned in lieu of termination in August 2009.
In one case, Blanchard pulled over a 21-year-old single mother near Tempe Marketplace and cited her for expired registration and no proof of insurance, according to Tempe police investigative reports.
Blanchard got her number from the citation, and within minutes, texted "you are the prettiest girl I've ever pulled over."
Blanchard said he later had sex with the woman. He also admitted to pursuing romantic encounters with at least three others he met while on duty, some of whom were victims of crimes, according to an internal investigation conducted by the Tempe Police Department.
Asked this week about the Blanchard case, Sgt. Steve Carbajal, a Tempe police spokesman, said, "Obviously, we take these incidents very seriously. It's totally inappropriate and unacceptable to meet women on duty or men on duty and cultivate relationships on duty."
Blanchard was placed on desk duty in February 2009 after his neighbor called Mesa police to report that Blanchard, while off duty, had grabbed her breast while in her apartment in May 2008. She said Blanchard came into her bedroom while she was dressing, reached out and squeezed her breast and then tried to kiss her. Blanchard insisted it happened while the two were playfully touching.
She said that while in the complex's hot tub, Blanchard suggested she take off her top while giving her a massage. She said she smoked marijuana and had drugs in her apartment when Blanchard was there, though he never used any. Officers are obligated to act when a crime is taking place.
Tempe police investigators found that Blanchard violated the Police Department's policy of abusing his position for his personal gain, receiving gifts or favors because of his status as an officer, violating the department's code of conduct, and engaging in conduct unbecoming of an officer.